4175 Golf Outing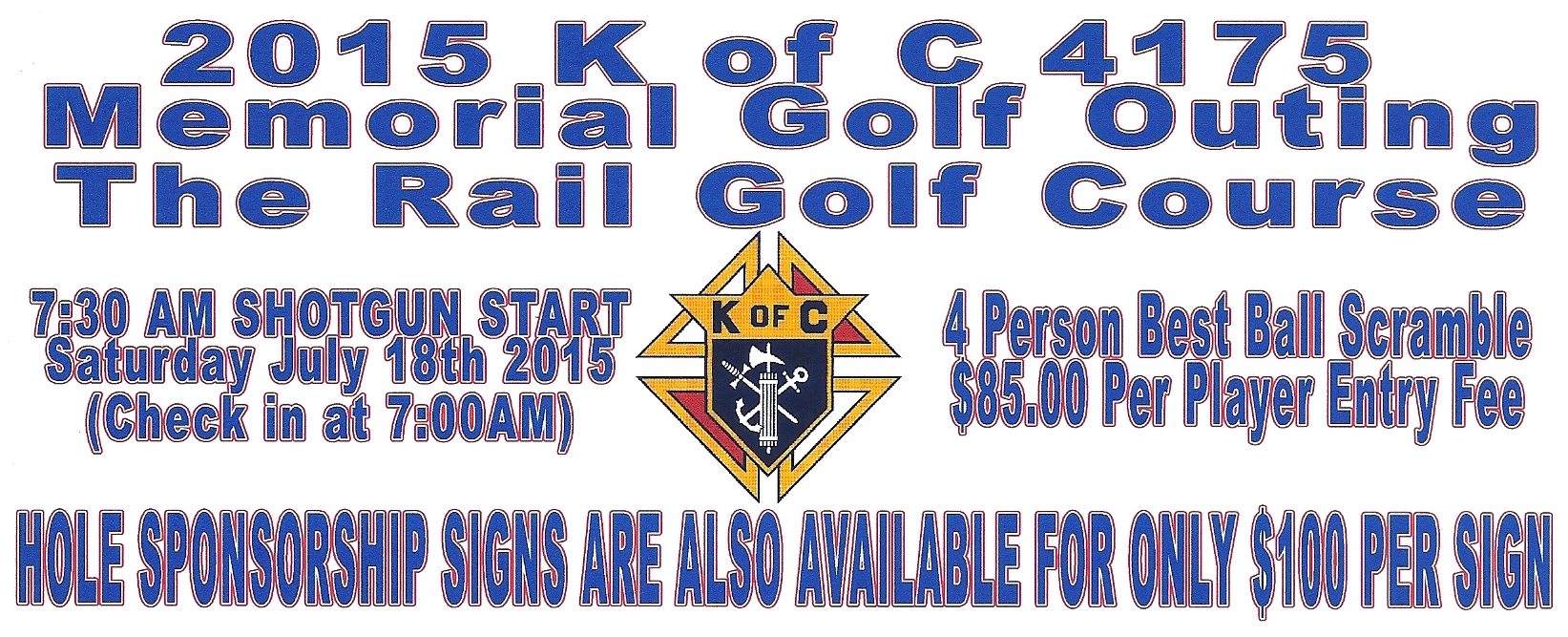 Council 4175 Calendar
Check the Council 4175 Calendar for all upcoming events
Knights are Called to Communion
As Knights of Columbus we are called to be practical Catholics, this means we are called to be practicing Catholics. It is one of only three requirements to be a Knight, and the most important by far. To be a practicing Catholic means that we find communion with Jesus Christ through the mass and through the Holy Eucharist. If we are not attending mass and receiving Jesus into ourselves weekly we are not living the very principles the Knights of Columbus is founded on: Charity, Unity, Fraternity, and Patriotism, because these principles find their fullness when we are united with Christ. To be united with Christ means to join him in the celebration of the mass weekly. The mass and the Eucharist are so important to our lives and to the order of the Knights of Columbus. They give us life, purpose, direction, and a vision of love, Christ's love. Remember if we do not live out our call to be a practicing Catholic then we are not truly called to be Knights of Columbus. So let us pray that we all find unity as brothers weekly as we join to celebrate Christ present body, blood, soul, and divinity in the Eucharist. May God Bless you all.
Nominations of Officers
Grand Knight Tom Kohlrus conducted Nominations of Council Officers for the Fraternal Year 2015-2016 at the April and May meetings. The Officers will take office effective July 1, 2015.
Grand Knight: Tom Kohlrus
Deputy Grand Knight: Kenny Fitzgerald
Chancellor: Matt Daniels
Treasurer: Earl Schroeder
Recorder: Bill Haworth
Advocate: John Mehlick
Warden: Karl Kohlrus
Inside Guard: Martin Petterchak
Outside Guard: Francis Nwajei
3 Year Trustee: Mike Downey
Alt. to Grand Knight: Earl Schroeder
Delegate: Jerry Daniels
Alt. to Delegate: Pat Daniels
We are on Facebook
K of C 4175 is now on Facebook. Check us out and like us to stay up to date on events happening at the hall.


Bingo at Caritas Hall
We need your help on Monday nights, once or twice a month to help with Bingo. Help is especially needed from 5:00 PM until 6:30 PM to sell at the counter, this is a sit down job and you can work once a month, once every two weeks, every week or on an as available basis. If you can spare a couple hours and help out at this important fundraiser for our Council, please contact Earl Schroeder at 753-3189 or just show up on any Monday night.