2015-2016 Fish Fry Schedule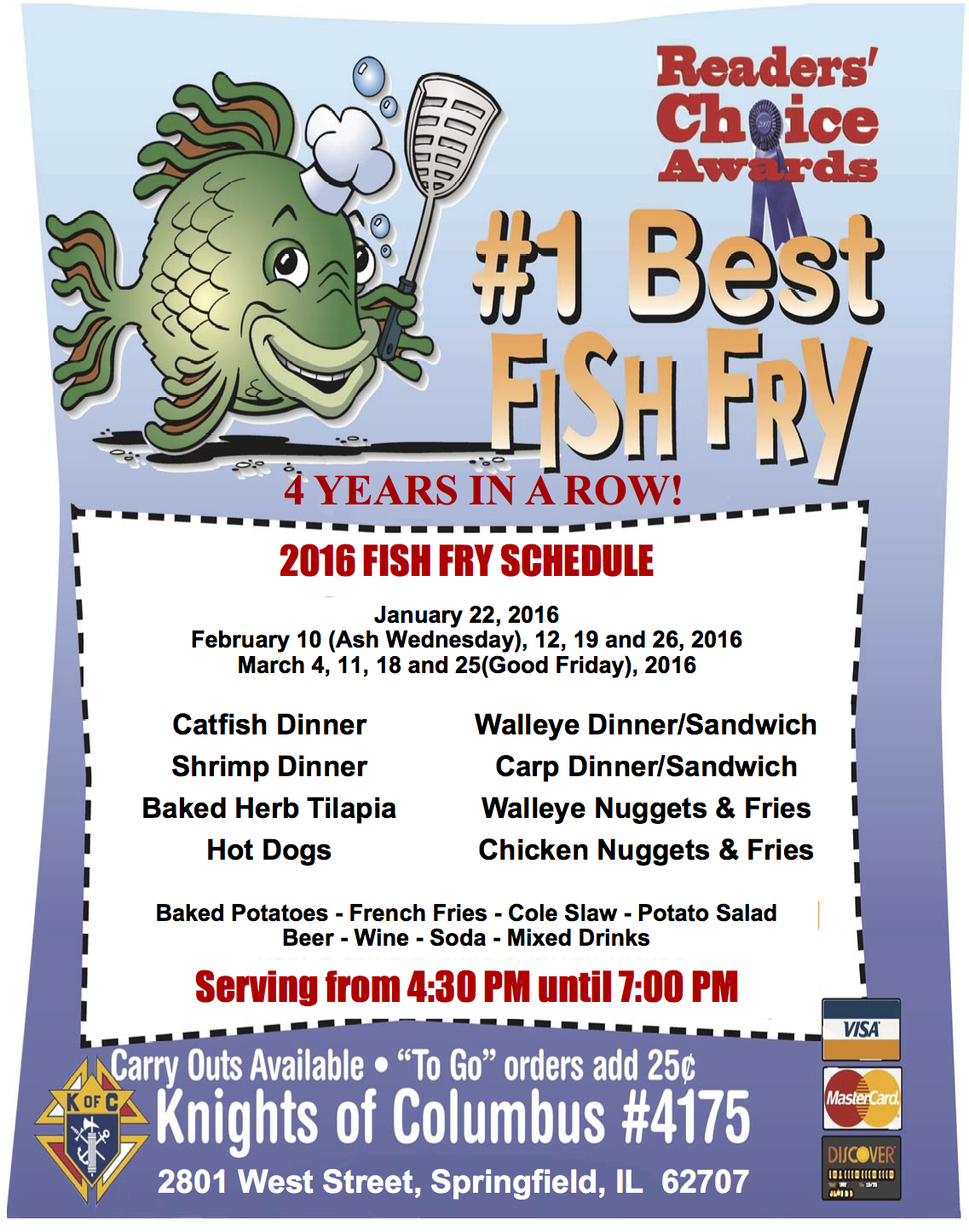 St. Aloysius Chili Lunch
The gentlemen attending "That Man is You" from St. Aloysius Parish will be holding a Chili Lunch on Sunday, January 31 in the Parish Hall to support St. Aloysius School. We will have chili and hotdogs available for dine in or carry out from 11:30 am until 4:00 pm. Join us for a quick Sunday afternoon lunch and help us kick off Catholic Schools Week and support St. Aloysius School.
St. Aloysius Spaghetti Dinner
The St. Aloysius School Annual PTO Spaghetti Dinner will be held Sunday, February 14 from 12:00-6:30 pm in the St. Aloysius Church basement. Tickets can be purchased at the door. Adults $9.00, seniors $8.00, children $6.00. The dinner includes spaghetti, meatballs, bread, salad, drink and dessert. Carry outs and drive-thru will be available from the parking lot.
Council 4175 Annual Banquent
Mark your calendar and make plans to attend the Council 4175 60th Annual Banquet on Saturday, February 20, 2016. This year's banquet will be held at the Council Hall. The evening begins at 5:30 PM with a cocktail hour featuring an open bar, continues with dinner at 6:30 PM. Dinner will be followed by the evenings program honoring the Knights of the Month and featuring the announcement of the Knight of the Year. There is a sign up sheet in the Pelican room, please add your names to the list so we can get a count for the caterers. Hope to see you there.
St. Aloysius Koinonia
Please consider joining your fellow Brother Knights on the St. Aloysius Koinonia (STALK) on March 11. Koinonia is a time to reflect, pray and enjoy good times with good friends all centered around improving our understanding and celebrating the Paschal Mystery. Christ showed us true selfless love by His death and resurrection and together we will rediscover this saving act that freed us from death. STALK 19 will take place in the Parish Hall, Friday March 11 (starting at 5:30 pm) and will conclude Sunday, March 13 (ending around 3:00 pm). Please contact Matt Daniels at (217) 416-7027.
Council 4175 Calendar
Check the Council 4175 Calendar for all upcoming events
We are on Facebook
K of C 4175 is now on Facebook. Check us out and like us to stay up to date on events happening at the hall.


Bingo at Caritas Hall
We need your help on Monday nights, once or twice a month to help with Bingo. Help is especially needed from 5:00 PM until 6:30 PM to sell at the counter, this is a sit down job and you can work once a month, once every two weeks, every week or on an as available basis. If you can spare a couple hours and help out at this important fundraiser for our Council, please contact Earl Schroeder at 753-3189 or just show up on any Monday night.